By Junaid Minshad, MenInfluencer.com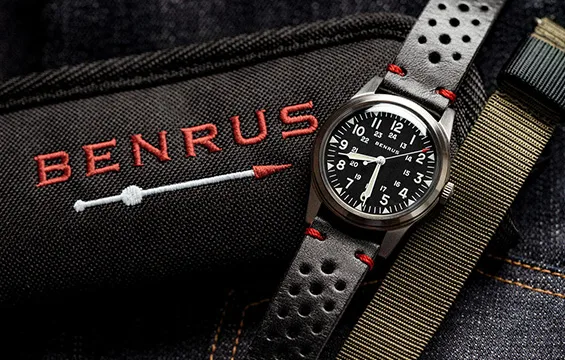 If you're like me, you understand the importance of a great watch. It's more than just a timekeeping device; it's a statement piece that tells the world you mean business. That's why I couldn't wait to get my hands on a BENRUS watch. Now, after wearing one for a while, I'm here to share my honest review with you, my fellow watch enthusiasts.
Why BENRUS?
Before I dive into the nitty-gritty details, let's talk about why BENRUS piqued my interest in the first place. There are a few standout reasons:
Rich Heritage: Founded in 1921, BENRUS boasts a legacy that spans almost a century. You don't stick around that long in the watch game unless you're doing something right.
Military Roots: BENRUS watches have been trusted by the U.S. Military for years. When the military relies on a brand, you know it's built to last.
Innovation and Style: BENRUS isn't content to rest on its laurels. They combine their iconic designs from the past with forward-thinking innovation, resulting in timepieces that are both classic and cutting-edge.
100% Satisfaction Guarantee: The confidence to offer this speaks volumes about their commitment to quality and customer happiness.
With that said, let's break down what makes BENRUS watches a must-have for any guy aged 18-40 who appreciates a solid timepiece.
Design and Build Quality: A Wristful of Elegance
When I first unboxed my BENRUS watch, I was immediately struck by the craftsmanship. Here's what stood out:
Iconic Military Aesthetic: The military-inspired design isn't just for show. It's functional, rugged, and exudes a sense of adventure.
Top-Notch Materials: BENRUS doesn't cut corners. Their watches feature high-quality materials, from stainless steel cases to sapphire crystal, ensuring they can withstand the test of time.
Comfortable Fit: The watches are surprisingly comfortable to wear. They're not too heavy, and the straps are kind to your skin. Perfect for everyday wear.
Precision Timekeeping: Not a Second Wasted
A watch's primary function is to tell time accurately. BENRUS delivers on this front with:
Reliable Movements: Powered by precise Swiss quartz movements, these watches keep time with remarkable accuracy. You won't have to worry about being fashionably late.
Luminous Hands and Markers: Whether you're diving into a dimly lit room or checking the time during a nighttime adventure, the luminous hands and markers ensure you can always read the time.
Versatility: From Desk to Dive
One thing I love about BENRUS watches is their versatility. They seamlessly transition from the office to outdoor adventures:
Water Resistance: Many BENRUS models are water-resistant, some even suitable for diving. So, whether you're in a business meeting or exploring underwater wonders, your BENRUS watch won't miss a beat.
Price Point: Affordable Luxury
Now, you might be thinking, "With all these features and quality, BENRUS watches must break the bank." But here's the pleasant surprise:
Affordable Luxury: BENRUS manages to strike the balance between high-quality craftsmanship and affordability. You get the best of both worlds without emptying your wallet.
Conclusion: BENRUS – Timeless Elegance Meets Modern Innovation
In a world where timepieces come a dime a dozen, BENRUS stands out as a brand that truly understands what makes a watch great. With its rich heritage, military roots, commitment to innovation, and accessible pricing, BENRUS offers a compelling package that's hard to resist.
So, whether you're a young professional looking to make a statement in the boardroom or an adventurer seeking a reliable companion for your escapades, BENRUS has a watch that's tailor-made for you.
Don't just take my word for it; experience BENRUS for yourself. You won't be disappointed.
And hey, while you're at it, check out my Free Glow Up Secrets Book: The Underground Playbook For Turning Heads Everywhere You Go here. It's filled with tips and tricks to enhance your style and confidence.
Stay stylish, my friends!
Junaid Minshad