Hey there, fellow adventurers! Junaid Minshad here, and I'm thrilled to bring you an in-depth review of the BENRUS Ultra Deep. If you're a guy aged 18-40 with a thirst for adventure and style, you're in the right place. Dive into the depths of excellence with me as we explore the remarkable features and design of this timepiece.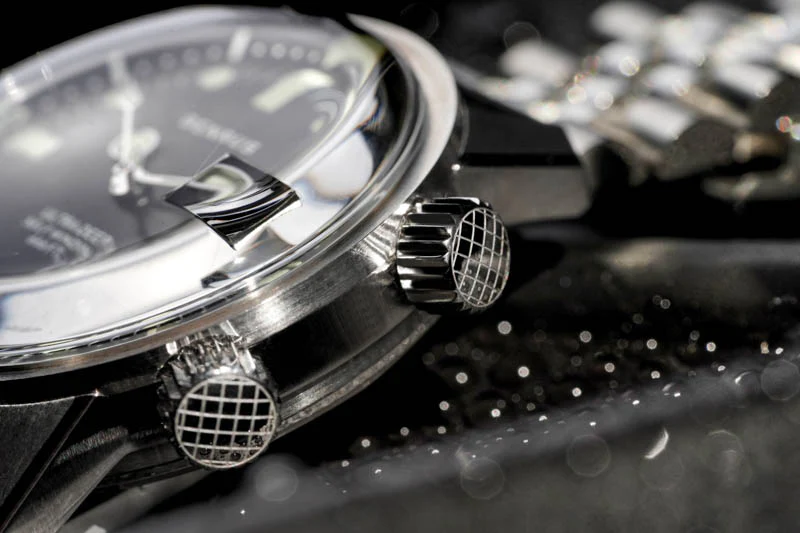 The Dive-Ready Marvel
At the core of the BENRUS Ultra Deep is its exceptional water resistance and engineering marvel. Let's get down to the specifics:
Case Details
Case Diameter: A compact and versatile 36.5mm.
Case Type: Crafted from 316L SS with a screw-in crown for ultimate durability.
Case Height: A robust 13.8mm, ensuring its resilience.
Case Length: Measuring 41.5mm from top lug to bottom lug, it strikes the perfect balance between form and function.
Movement
Movement: Powered by the Soprod P024 automatic movement with a 38-hour power reserve and a convenient date feature.
Bezel: Stainless steel friction fit bezel with a lumed 12 o'clock triangle.
Strap: It comes with a stainless steel jubilee-style quick-release bracelet and a complimentary blue nylon NATO dive strap.
Dive Features
Lug Width (Strap Size): A comfortable 18mm, making it versatile for strap changes.
Water Resistance: A remarkable 20ATM rating ensures it can conquer depths with ease.
Crystal: An acrylic double domed crystal with an internal date magnification window adds to its robust design.
2nd Crown: The internal rotating 60-minute dive bezel is actuated by the second crown.
Illumination
Lume: Featuring C3 Super-LumiNova on dial markers, hands, and bezel for clear legibility in low-light conditions.
Swiss Made: Crafted with precision, adhering to Swiss watchmaking excellence.
Dive Back in Time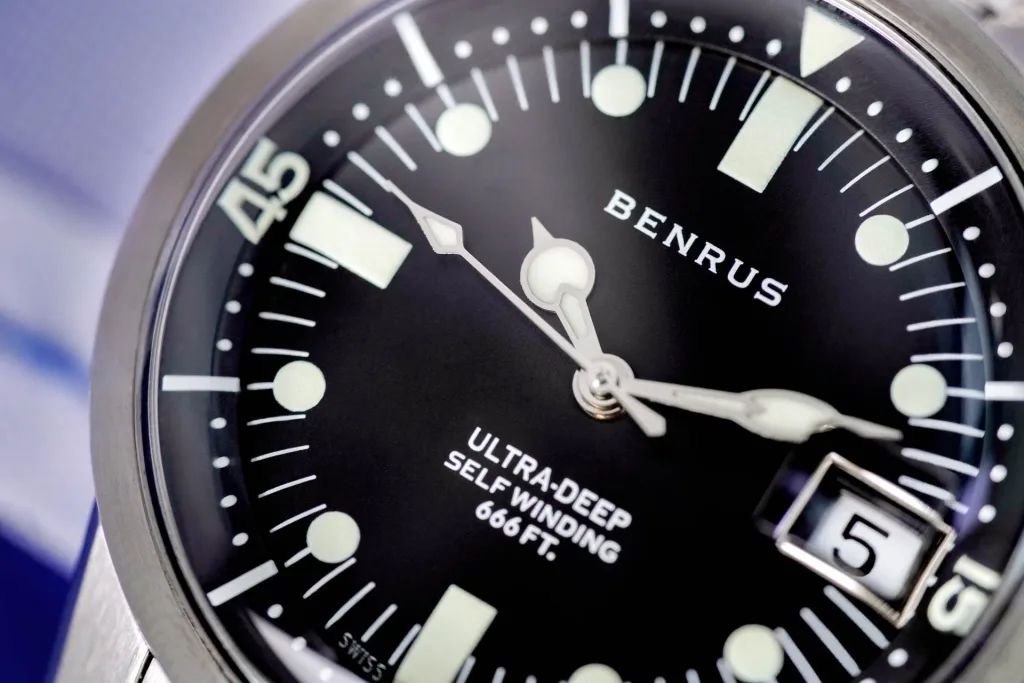 The BENRUS Ultra Deep is a modern reincarnation of a legendary design from the 1960s – the golden age of scuba diving. It pays homage to the era with a compressor-style case, a unique feature that increases water resistance as you descend deeper. This innovation, combined with an internal rotating 60-minute dive bezel, sets it apart from the crowd.
Timeless Design
One of the standout features of the Ultra Deep is its timeless design. It boasts cathedral-style hour and minute hands that not only look cool but also enhance legibility. The inclusion of a date window with an internal magnification eye is a nod to the past while embracing modern watchmaking technologies.
In recreating this iconic timepiece, BENRUS has preserved the original size of 36.5mm while incorporating contemporary updates for enhanced performance.
Real-World Testimony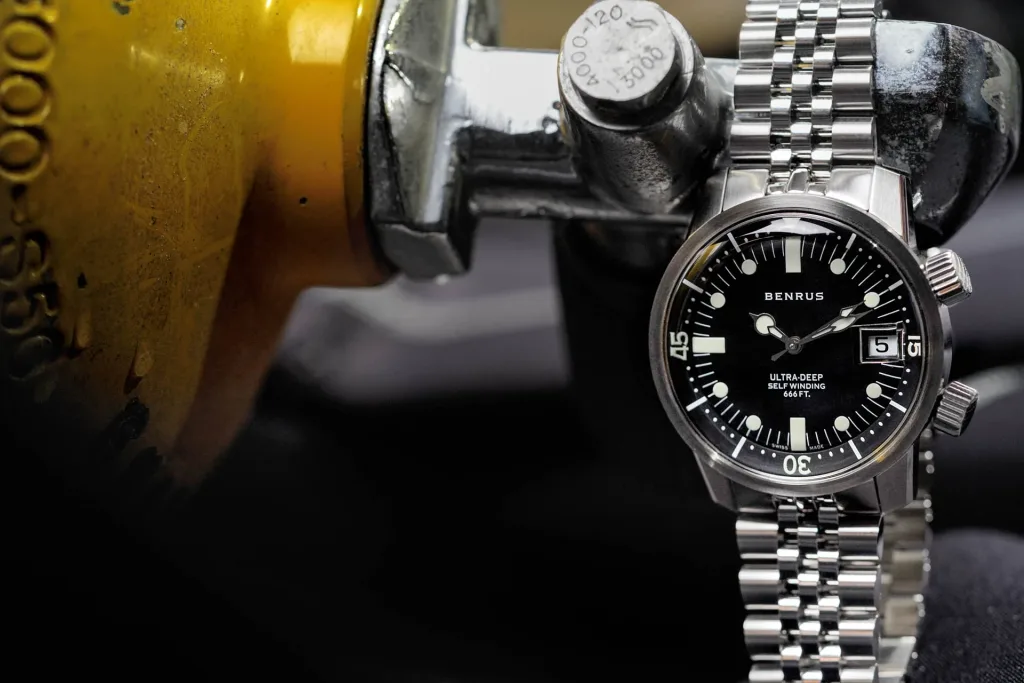 The true test of a dive watch is how it performs underwater. Jason Heaton, an adventurer and writer, had this to say about the BENRUS Ultra Deep:
"Underwater, the watch was supremely legible—its cream on black dial and distinctive hands left no doubt as to my bottom time. A dive watch is a simple creature with a simple job—track elapsed time legibly and accurately in all conditions, and don't leak. Though the depth of the shipwreck wasn't even close to the watch's depth rating, cold water can play havoc with equipment, and I'll admit to a lingering concern about the non-locking crown that controls the timing ring. This turned out to be unfounded as the watch emerged unscathed after two back-to-back dives, living up to its Ultra-Deep name."
Final Thoughts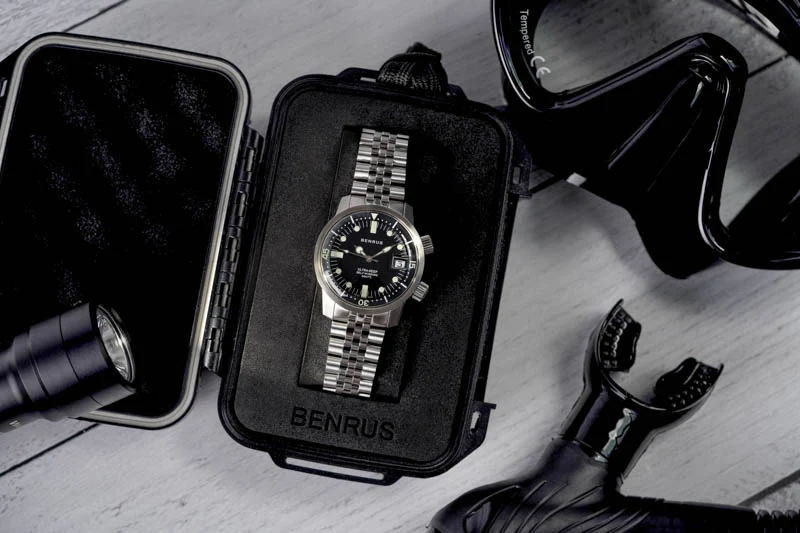 The BENRUS Ultra Deep is more than a timekeeping device; it's a symbol of adventure, style, and precision. With its versatile size, enduring craftsmanship, and impressive water resistance, it's an ideal companion for those who appreciate both form and function.
If you're ready to embark on your own deep-sea adventure or simply want a stylish and reliable wrist companion, the BENRUS Ultra Deep is worth every penny.
Before you go, don't forget to check out my Free Glow Up Secrets Book: The Underground Playbook For Turning Heads Everywhere You Go at meninfluencer.com/free. It's packed with tips and tricks to help you level up in all aspects of life.
And, as always, follow me on Instagram @JunaidMinshad for more style and lifestyle inspiration.
For personalized advice or a chat about anything under the sun, schedule a FREE Consultation Call with us at Calendly. We're here to help you become the best version of yourself, inside and out.
That's all for today, gentlemen. Stay stylish, stay adventurous, and keep exploring the depths of excellence with the BENRUS Ultra Deep!